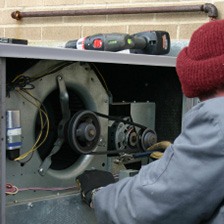 American Heattek Corp. is a green, commercial and industrial HVAC and building automation company serving the Midwest from its headquarters in Medina, Ohio. Our products and services maximize sustainability, operational efficiency, comfort and security within new or existing commercial, industrial and institutional buildings. Since 1990, we have designed, built, installed and maintained HVAC equipment, building automation systems and security systems that consistently and significantly save money, improve operations and reduce energy consumption. Experience comprehensive operational control of your facility and a healthier building environment with American Heattek.
From single unit buildings to critical data centers, American Heattek offers you the cutting edge technical expertise, economical insight and proactive follow through on a wide range of commercial and industrial HVAC and building automation projects.
Industries Served
American Heattek serves building owners, mechanical contractors, general contractors and building management companies on new construction and building renovation projects in the following industries:
Commercial

Industrial

Office

Retail

Banking

Hospitals and Clinics

Schools

Churches

Government

Data Centers

Museums

Food Processing

Manufacturing
Technical Expertise
American Heattek offers you unparalleled expertise in building control systems that will help you manage your building's HVAC and energy needs more efficiently, more cost-effectively and in a green, sustainable fashion. Our seasoned technicians continually update their skills and knowledge ensuring that you receive the right answers and the correct solution more quickly. They can handle the installation, programming, troubleshooting and servicing of all types of direct digital and pneumatic controls. Furthermore, we are an authorized Honeywell Building Control Specialist (BCS) contractor that you can rely on for the best service and advice. Our service expertise covers the following areas:
Heating

Ventilation

Air Conditioning

Refrigeration

Boilers

Chillers

Air Handlers

VAV Boxes

Exhaust Systems

Make-up Air Systems

Cooling Towers

Coolers and Freezers

Computer Room Units

Power Management

Building Security

Building Monitoring and Data Reporting

Building Monitoring and Data Reporting

Gas Detection Systems

Preservation Quality HVAC

Microclimate Control

Environmental Controls

Condensation Control / Psychrometrics

Energy Efficiency / LEED / Sustainability
Authorized Honeywell BCS Contractor

LonWorks Integrator

BACnet Integrator

Niagara AX
Project Scope
American Heattek can handle virtually any controls, security or HVAC job whether it's a new construction or renovation project. Projects with multiple, overlapping work areas are our specialty. We provide the following services:
Design, installation, configuration of new building automation systems.
Troubleshoot and repair existing systems.
Preventative maintenance.
Systems integration and optimization.
Building energy efficiency assessment and remediation.
Project management and scheduling.