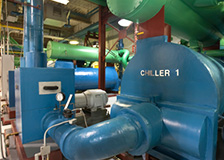 American Heattek's factory trained and certified team can address all your HVAC needs. We can design an optimal HVAC/R system for your new construction as well as evaluate, troubleshoot and renovate an existing system. We can handle virtually any HVAC/R application including tight tolerance, high performance applications such as museum archival preservation or food preparation. Let our experts help you with:
Air Conditioning and Refrigeration
Air Filtration
HVAC/R System Maintenance
HVAC/R System Replacement
HVAC/R System Installation
Humidification / Dehumidification
Air Distribution System Duct Work Evaluation and Cleaning
Gas Detection Systems
Boiler and Chiller Plant Service and Repair
Packaged Rooftop Equipment Replacement
Variable Refrigerant Systems Installation and Repair
Control System Integration
We can develop an energy saving HVAC strategy that will deliver consistently, optimal performance in new construction, renovations and retrofits.